Welcome to The Children's Art Center web page.
Established in 1991 by Sauda Aarif, an artist in
residence, The Children's Art Center is a
non-profit organization whose "soul" purpose is
bringing the gift of art within every child's
reach.

Our Mission
Our Mission Statement begins with a phrase
coined by our founder, Miss Sauda, who
believes "everyone is an artist." The body
of The Children's Art Center is dedicated
to healing through art and erasing discrimination
in our communities through diversity.
It is of the utmost importance to empower
ALL of our youth with tolerance and creativity.
We begin this mission one child at a time.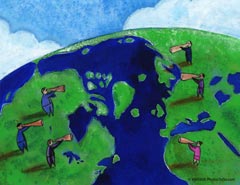 Organization News
DUE TO OUR RELOCATION, THIS WEBSITE IS UNDER CONSTRUCTION.
THANK YOU FOR YOUR PATIENCE.
*